Stay Human
A Little Rain
We could use a little rain
What the world needs is a little rain
Tomorrow the sun will come again
What the world needs is a little rain



01/27/2005
608 Gallery
(FRANTI ACOUSTIC) Park City, UT
01/28/2005
Treasure Mtn. Inn (255 Main St.) ~*6pm Film Screening *~ Park City, UT
01/28/2005
Main St. Mall, 333 Main St., 2nd FLR. (4pm Franti Acoustic) Park City, UT
01/28/2005
SUEDE (11pm-FRANTI sit in w/ Bernie Worrell, Wil Calhoun & Doug Winbush...JAM!) PARK CITY, UT
02/19/2005
Moonlight Festival Perth, AU
02/21/2005
Manning Bar (Franti Acoustic) Sydney, AU
02/22/2005
Manning Bar (Franti Acoustic) Sydney, AU
02/24/2005
Prince of Wales (Franti Acoustic) Melbourne, AU
02/25/2005
Sidney Myer Music Bowl (MEL INT'L MUSIC & BLUES FEST) Melbourne, AUSTRALIA
02/27/2005
Sidney Myer Music Bowl (MEL INT'L MUSIC & BLUES FEST) Melbourne, Australia
Globally people are starting to realise `I paid $150 dollars for these shoes, the person who made them got 17 cents, where did all the money go?'

Love Kamikaze: The Lost Sex Singles
Micahel Franti will do solo acoustic shows in Melborune and Sydney when Spearhead come to Austrailia for the Melbourne Jazz and Blues festival. The shows coincide with the release of a new limited edition CD, Love Kamikaze: The Lost Sex Singles, which features six previously unreleased Franti/Spearhead tracks. It seems the CD will be on sale at the shows (and possible later on Spearheadvibrations just like Songs From The Front Porch.)


---
I Know I'm Not Alone
Dan has found a video of the song I Know I'm Not Alone, the first time it was played. The lyrics are also available. Thanks Dan.

---
New lyrics
We've added some new lyrics (see below). Dan has sorted them all out. All songs are unreleased and lyrics taken from live performances.

---
We're back!

Thanks to Matt and Jen of loveisdashit.com for getting us back up - updates soon and please report any torubles with the site.
My email is back up richard@freakyandfree.com


---
It's so out of date!
It was been pointed out on the Spearhead Music Board that our chords (and also lyrics) are unreliable (incorrect). This is a communication failing on our part. Also an indication of our slackness. Most of the chords and lyrics have been sourced from the first (or early) live perfomrance. Some songs have since been commercially released with slight (or major) changes. It has been an oversight on our part NOT to indicate the source performance of the lyrics or chords. In future we will endeavour to attribute the source of the lyrics or chords. For example, both the chords and lyrics of Bomb The World were taken from an early live performance, the lyrics and chords are not an entirely accurate in regard to the CD release.

We have recently posted chords and ltrics to a new song Life-saver. It was posted by loveisdashit.com from a March 30th performance at Santa Rosa. Who knows, if it will ever recieve an offical CD release and with what differences in lyrics, melody or in key? From now on we will acknowledge the source of these lyrics (and maybe even update when a commerical release is made!) in order to communicate the accuracy against an officail release.

Over the next few weeks we will attempt to go through the all lyrics and chords to acknowledge their source.

Thanks for your patience and understanding with this! This site will now focus on lyrics, cd covers for the field recordings, general info, setlists and past tour info.

If you have any chords or other info please send it in - even if you sent it before! I lost all my old emails as well.

Check out loveisdashit.com for all your spearhead needs.

freakyandfree.com is a fan-based resource


Lyrics for:
A Minutes All I Need
Clean Up Man
I Know I'm Not Alone
I'm Like a Bee
It's Time To Go Home
Love Enough
Never Seen A Place So High
Not Sorry
Tolerance
Yell Fire
Yens and Euros

8150, Vail, Colorado
10/4/2002
After a wonderful beginners yoga lesson from Racheal, our personal yoga instructor for Colorado, we all felt like a million bucks or in a less material world, we all felt like a beautiful, fully vibrant rainbow. The 8150 club is called that because it stands eight thousand one hundred and fifty feet above sea level. Althought the floors and walls rocked and bounced as much as if it were on sea level it's self. I mean this place made even Portland's Crystal Ballroom feel sterdy and at times it looked like the wall behind the stage was gonna rip right off the 12" beams helping to hold them up! And not to mention they have to hang the DJ turntables from the ceiling so they don't skip every time someone is dancing or jumping around the dancefloor. Radio comes out quickly to introduces the band before diving right into Soulshine which was a great openner and set the standard for the rest of the night. What Happens Next flowed right out of Soulshine and kept the dance pace up for everyone who wasn't still catching thier breath from the openning song. Michael brings up Jaque again to help the out on percussion. People In The Middle emerged out of the breif silence as Dave really screamed his solo out from beginning to end. The walls had a short break until the guys started back into the music with Runfayalife. Carl would drop the bass into the Skintight jam as Radio takes the mic device and all of us for a ride on the freestylin' highway. After landing back on earth for a minute, Dave would then start back in with the new tune, Love Why Did You Have To Go. Radio would break it down for a minute and beatbox the bass line while the band layed off for a minute before rocking back into the met and potatoes of the song. Michael asks the monitor guy Casey to fix the wedges in front of Dave as Dr. Shul takes his acoustic axe out for the new fan favorite, Never Too Late. The guys rock the beat out for a second to mess around with Queen's, "We will, we will, rock you" before ending the song. This is such a cool tune and I have high hopes that it will be one of the bigger hits on the new album. One more fast monitor modification and then BAM!, right into the supa funky bass line to, What I Be. This song just sound soo dope right from the beginning as Jaque joined in and Dave added some real phat guitar licks around Bob's new keyboarding chimes. Manas held everyone together as he kept a perfect tempo through the whole song and transition to Pray For Grace. Pray For Grace started abit different then the usual version had been played, everyone stopped playing except for Carl who just splattered the place with the sickist bass line and then after acouple of lines he stops and Manas, Carl and Mike all harmonize the openning words, "Why must I feel like this today". Radio later beatboxes acouple of the bass lines with just Manas and Jaque backing him up. Tre' appears and gets alittle call back thing going with the crowd that fires them up into one huge mass. Radio adds some freestyles to help mix it up and then rocks it dancehall stylie before the band goes back into the original groove. The band starts to jam it out and get into this dubby type flow with Michael adding some Marley lyrics. They jump back into the original groove one more time before ending the song. Everyone Deserves Music developed slowly but took flight by the chorus as Manas really thumps on the toms with an echoing vibration. Pretty solid through out until the end where it seemed to fizzzle out abit. The guys blasted into the very funky version of Yes I Will which has only been played a handful of times before, if that. Dave uses this cool new effect on his guitar for his solo and the Michael calls out for drums and bass. They get the flow going while Dave plays a cool little lick over the groove. Then Michael asks Carl to drop the bass line out for a second as Dave, Manas and Jaque rock it out. They bring it all back together and then end it softly. Just as softly as they end the last song, they gently worked into the begininng of Every Single Soul. Dave takes an impressive solo before Tre' comes out to freestyle and sing for the crowd with some call backs to help involve the crowd. Michael starts singing over Tre' with one of Tre's songs, "She keeps passin' me by" and then comes up with his own verse, "But the sun keeps on shinning on me". Michael finally relizes that he doesn't have the voice for that song and so he calls up Dionna from Tre's band the Legend of the Phoniex to help out on vocals. After rocking that out abit they bump right back into Every Single Soul and then transition it right into Stay Human. A pretty version until Radio starts mentioning that there are alot of freaks in here and then start calling out freaks all over the audience as he turns it into a freestyle. The place starts going crazy and all sorts of freaks start coming up on stage and dancing then diving into the crowd. The band finishes the song as things slowly calm down and the band leaves the stage except for Radio who starts in with his flutes and beatboxing solos along with Metallica and Fugees beatbox covers. Radio gives evryone three big breathes before the band takes the stage again for Rock the Nation. The crowd starts rocking along with the walls and Michael once again brings the tempo up at the end of the song and adds lyrics from the old days of Disposable Heroes Of Hiphoprisy, "California Uber Alles, California ...Uber Alles". Quick water break and a word about our lovely president shrub and the wondeful job he is doing and then Michael plays his guitar into the beginning lines to Bomb The World. Short and to the point with just enough time to rock out Sometimes befroe cerfew. Keaton Simons from Tre' Hardson band sits in on guitar for a sweet solo and then Carl and Dave take over for abit. Once again the crowd gets alittle nutty and starts jumping on stage and diving into the crowd and many girl could be seen riding the shoulders of friends. All in good fun the guys continue on to rock the joint 'till cerfew. Michael signals to carl to start in with the bass line to Marley's "Crazy Baldheads" and the rest of the band joins in as Mike starts to introduce the band. A excellent show with tons of highlights, definitly keep your eyes out for this juicy recording.

Dan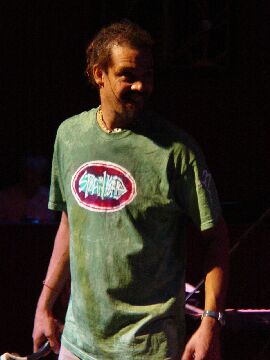 Michael
Nemo

Nemo's site has lots of photos of his artwork

Spearhead Vibrations
The official spearhead site - get together with the Spearhead community on the messageboards.
Love is da shit
Download shns, mp3s and stream video.
Power to the Peaceful
European fansite.
Spearhead-Home
A German Michael Franti & Spearhead Fansite dedicated to all the freaky whomans searching for music, words and power of a higher level