Everyone Deserves Music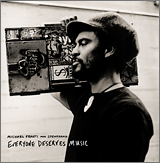 A Little Rain
We could use a little rain
What the world needs is a little rain
Tomorrow the sun will come again
What the world needs is a little rain



01/27/2005
608 Gallery
(FRANTI ACOUSTIC) Park City, UT
01/28/2005
Treasure Mtn. Inn (255 Main St.) ~*6pm Film Screening *~ Park City, UT
01/28/2005
Main St. Mall, 333 Main St., 2nd FLR. (4pm Franti Acoustic) Park City, UT
01/28/2005
SUEDE (11pm-FRANTI sit in w/ Bernie Worrell, Wil Calhoun & Doug Winbush...JAM!) PARK CITY, UT
02/19/2005
Moonlight Festival Perth, AU
02/21/2005
Manning Bar (Franti Acoustic) Sydney, AU
02/22/2005
Manning Bar (Franti Acoustic) Sydney, AU
02/24/2005
Prince of Wales (Franti Acoustic) Melbourne, AU
02/25/2005
Sidney Myer Music Bowl (MEL INT'L MUSIC & BLUES FEST) Melbourne, AUSTRALIA
02/27/2005
Sidney Myer Music Bowl (MEL INT'L MUSIC & BLUES FEST) Melbourne, Australia
Globally people are starting to realise `I paid $150 dollars for these shoes, the person who made them got 17 cents, where did all the money go?'

Love Kamikaze: The Lost Sex Singles
Micahel Franti will do solo acoustic shows in Melborune and Sydney when Spearhead come to Austrailia for the Melbourne Jazz and Blues festival. The shows coincide with the release of a new limited edition CD, Love Kamikaze: The Lost Sex Singles, which features six previously unreleased Franti/Spearhead tracks. It seems the CD will be on sale at the shows (and possible later on Spearheadvibrations just like Songs From The Front Porch.)


---
I Know I'm Not Alone
Dan has found a video of the song I Know I'm Not Alone, the first time it was played. The lyrics are also available. Thanks Dan.

---
New lyrics
We've added some new lyrics (see below). Dan has sorted them all out. All songs are unreleased and lyrics taken from live performances.

---
We're back!

Thanks to Matt and Jen of loveisdashit.com for getting us back up - updates soon and please report any torubles with the site.
My email is back up richard@freakyandfree.com


---
It's so out of date!
It was been pointed out on the Spearhead Music Board that our chords (and also lyrics) are unreliable (incorrect). This is a communication failing on our part. Also an indication of our slackness. Most of the chords and lyrics have been sourced from the first (or early) live perfomrance. Some songs have since been commercially released with slight (or major) changes. It has been an oversight on our part NOT to indicate the source performance of the lyrics or chords. In future we will endeavour to attribute the source of the lyrics or chords. For example, both the chords and lyrics of Bomb The World were taken from an early live performance, the lyrics and chords are not an entirely accurate in regard to the CD release.

We have recently posted chords and ltrics to a new song Life-saver. It was posted by loveisdashit.com from a March 30th performance at Santa Rosa. Who knows, if it will ever recieve an offical CD release and with what differences in lyrics, melody or in key? From now on we will acknowledge the source of these lyrics (and maybe even update when a commerical release is made!) in order to communicate the accuracy against an officail release.

Over the next few weeks we will attempt to go through the all lyrics and chords to acknowledge their source.

Thanks for your patience and understanding with this! This site will now focus on lyrics, cd covers for the field recordings, general info, setlists and past tour info.

If you have any chords or other info please send it in - even if you sent it before! I lost all my old emails as well.

Check out loveisdashit.com for all your spearhead needs.

freakyandfree.com is a fan-based resource


Lyrics for:
A Minutes All I Need
Clean Up Man
I Know I'm Not Alone
I'm Like a Bee
It's Time To Go Home
Love Enough
Never Seen A Place So High
Not Sorry
Tolerance
Yell Fire
Yens and Euros
Sea Jazz Festival- Den Haag, Netherlands
7/12/1997

Who You Love> Food for The Masses, You Can't Sing Our Song, Love Is The Shit> No, No, No,(you don't love me), Hole In The Bucket> Get Up, Stand Up(Bob Marley), Piece O' Peace, I Feel Good(J. Brown)> No Diggity(Blackstreet), The Payroll, Why Oh Why, I'll Be There(M.Jackson)(w/ ganja spoof), Positive> Sexual Healing(M.Gay)
3/15/2002
The Arena, Brisbane, Australia


Disc one
01. Intro (1:18)
02. Everyone Deserves Music (4:23)
03. People In The Middle (4:39)
04. Positive (4:41)
05. What Happens Next (5:52)
06. Do Ya Love (6:45)
07. Runfayalife (4:39)
08. Here Comes The Sun (4:16)
09. Every Single Soul (10:19)
10. Stay Human (13:51)
11. Sometimes (slow) (5:20)
12. In the Light (10:11)

Disc two
01. Words (3:26)
02. Yes I Will (4:38)
03. Feelin Free (15:31)
04. Soulshine (7:41)
05. Radio Beatbox (2:54)
06. Radio (8:03
07. Rock The Nation (4:34)
08. Red Beans and Rice (6:20)

Disc three
01. Words (5:05)
02. Bomb The World (5:09)
03. Oh My God (6:00)
04. We Don't Mind (8:43)
05. Sometimes (22:09)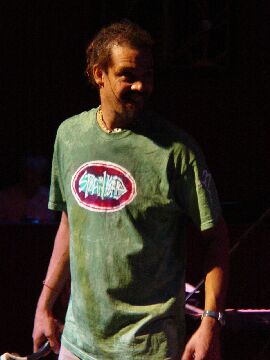 Michael
Nemo

Nemo's site has lots of photos of his artwork

Spearhead Vibrations
The official spearhead site - get together with the Spearhead community on the messageboards.
Love is da shit
Download shns, mp3s and stream video.
Power to the Peaceful
European fansite.
Spearhead-Home
A German Michael Franti & Spearhead Fansite dedicated to all the freaky whomans searching for music, words and power of a higher level